---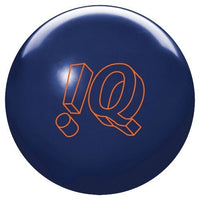 TruBall Reviews Control Ball
Please allow 1 week for delivery 
With over 19 years of experience in bowling ball testing and development, TruBall Reviews is built to review bowling products in a new, educational, technical, and exciting manner. The process we use will allow any bowler the opportunity to know how any newly released bowling ball will roll for their specific game in their home environment. Most ball reviews focus on the bowler and their style. We believe the focus should be on the ball and how it compares to a known ball. This type of comparison allows for more useful information to be obtained and reduces the need for a specific style to be used. Let's be honest, we all don't throw it like the people we see in most reviews anyway. So let's stop comparing ourselves to other bowlers and focus on what matters…. the ball.
We will use a review process that will consist of 3 different parts: 
Part 1
All balls will go through a series of tests - drilled and undrilled - to determine metrics that will provide value to the consumer. Think similarly to consumer reports. 
Part 2
Dual testing analysis. A player will throw the ball live - unedited. We will get some feedback from both the player and someone else watching them test. This will be a discussion about what they are seeing. Using Clutch Video Technology, you will be able to see shots thrown and visually see older shots for comparison. We will also use Specto data to confirm the quality of the shots.  This dual approach will allow for a second set of eyes to help explain some things that may be missed when actually throwing the ball. 
Part 3 
We will also have a ball that will be constant in ALL tests. This "control ball," as it will be called, will allow for comparisons to be made against the other balls tested. This is a critical element of the testing process that is mostly missed in ball reviews. If you don't have a control ball to compare against, how do you know if the environment is the same as before, or if what you are testing is better or different than the previously tested products? The simple answer is you can't.
In order for you to have a deeper understanding of whether a ball is good for your game or not, you need the opportunity to have the exact same control ball with the exact same surface.  This ball would come from us shipped at a 2000 grit TruCut Surface.  The surface will be verified using a laser surface scanner. We will also send you a new 2000 grit TruCut sanding pad to allow you to keep the surface fresh.  We will offer 2 layout options: Standard or 2 Hander. 
This will allow you to mimic what we use for testing. We will send instructions for your pro shop to use to make sure you are using the same layout from the Positive Axis Point. If you would prefer, we can drill the ball for a fee. 
Everyone having the exact same ball IS the key to making a ball review Tru and accurate for your game. When we compare balls, we will use a new simple Relative Rating System (RRS). Using RRS will allow you to understand how the test ball will perform against your control ball. This will help you decide if the ball we are testing is a good option for you and your arsenal.
What about the differences in lanes or oil patterns?
The lane surface and pattern ultimately determine ball motion for any given bowler. The specific information regarding the lanes, surfaces and oil patterns we test on will be available to you. However, as long as you have the "control" ball and the Relative Rating System, you will be able to predict how the test ball will roll for you in your center. To demonstrate the idea, watch as these different styles of bowlers throw the control ball compared to a test ball.
Testing Protocols
Surface is the number one way to change your ball reaction. Because of this, we will have new surface metrics.
Box Surface Durability
We will test the ball out of box for 3 games and measure the surface change.
Surface Versatility 
We will measure how the ball performs at different surface grits and track performance.
TruSurface
This will be a measurement using a laser surface scanner and a gloss meter to find out the actual characteristics of the bowling ball surface.
RRS Length

We will test a ball and use Specto data to determine the average difference between the control ball and the test ball with a simple + or - system.
RRS TruHook
We will test balls at the exact same finish and seek to measure how much total hook they have when surface is no longer a variable.
RRS Ball Motion
We will use Specto and Clutch data to determine the ball motion classification with a simple Angular, Traction, Continuous, Straight rating system.
RRS Versatility 
We will use bowler feedback and Clutch to determine an overall grade relative to the control ball.
Think of the control ball as being the hardware and our testing process as being the software. Once you have both pieces, you can compute whether or not the ball is right for your game. Plus, it helps you to know what you are looking for in a new ball.
The Control Ball 
The control ball is the Storm IQ Tour (Blue). It will be available shipped to you for $149.You can use AfterPay installment payments.
It will come with a free 2000 grit TruCut Sanding Pad and will be checked and verified at 2000 grit using TruCut Sanding Pads prior to shipment.  You will also receive step by step instructions for your pro shop to follow to ensure they are able to drill the ball to mimic the ball layout we are using in the videos.  We will also have testing instructions for you to follow on the lanes.  This will help you calibrate your ball to what we will be doing during testing.